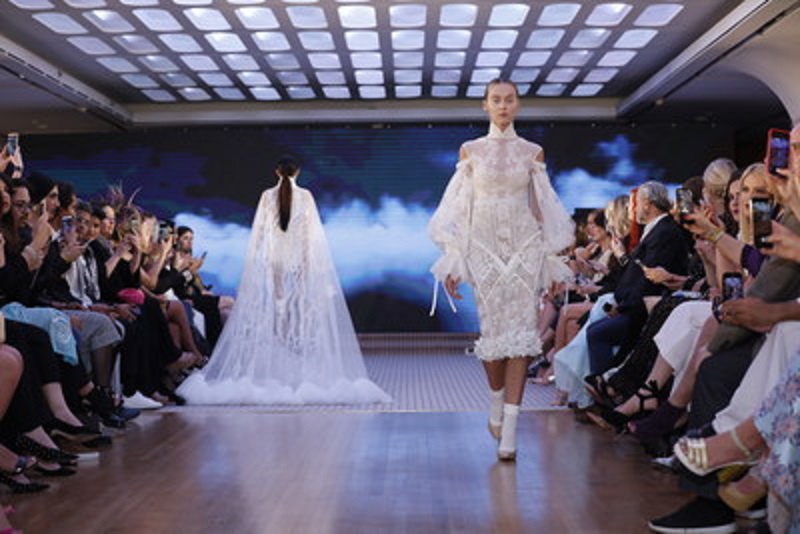 The Arab Fashion Council (AFC) continues to revolutionize the regional fashion industry with the sixth edition of Arab Fashion Week held in Dubai. The bi-annual event, that took place on 9-12th May on board of the historical Queen Elizabeth 2 ship, attracted more than 15,000 visitors and featured a total of 21 fashion shows. It is the world's first floating fashion experience showcasing 21 international designers in Dubai.
阿拉伯时尚协会(Arab Fashion Council,简称"AFC")继续凭借举行第六届阿拉伯时装周迪拜展,为阿拉伯地区的时尚行业带来革命性变革。阿拉伯时装周是一个一年举行两次的活动,今年的迪拜展于5月9日至12日在具有历史意义的伊丽莎白女王二号(Queen Elizabeth 2)邮轮上举行,吸引了超过15,000名访客,总共举行了21场时装秀. 本届时装周提供全球首个浮动的时尚体验,在迪拜展示21位国际设计师的作品。
As one of the first and only platforms in the world dedicated to promoting Resort and 'Ready-Couture' collections, the Arab Fashion Week lived up to its name by presenting an exciting array of international and regional talent. When considering what a fashion week symbolizes in the former mysterious and closed Islamic world, the economic meaning of the Arab Fashion Week becomes remarkable in an investor's surveyed eyes.
作为全球首批和唯一专门致力于推广度假与"高定成衣"系列的平台之一,阿拉伯时装周名副其实,能够展现令人激动的一系列国际和地区人才的作品。考虑到在曾经充满神秘的封闭的伊斯兰世界举办时装周的象征意义,以一个投资者眼光重新审视阿拉伯时装周,其经济意义变得不同寻常。
The applause in the Arab Fashion Week echoes by cheers on UAE's ranking world's 7th most-competitive economy. The IMD World Competitiveness Rankings 30th edition released by IMD, an independent business school, upgrade UAE three places from 10th ranking last year to seventh this year. From 2011 till 2018, UAE moved up 21 positions in 7 years and maintained its leadership in the Middle East North Africa region.
阿拉伯时装周的掌声在阿联酋被列为世界第七最具竞争力经济体的欢呼声中得到回响。 由独立商学院IMD发布的《IMD世界竞争力排名第30版》将阿联酋提升3个位次,从去年的第10位上升到今年的第7位。从2011年到2018年,阿联酋7年内上升21个位次,并保持在中东和北非地区的领导地位。
The competitiveness report highlights UAE's 23 number-one indicators including "Government Decisions" and "International Talent". UAE's determination of reform, abundant natural resources and talent of investment enables it to outperform other Arab countries. And the government's policies indicate that it will continue to enhance it business environment, infrastructure and economic structure. For example , the Minister of Human Resources and Emiratisation, told the Federal National Council on May 22 that the UAE Labour Law will be changed to live up to the ambitions of the leadership, citizens and private sector, and to fit the post-oil era.
竞争力报告突出了阿联酋的23项世界排名第一的指标,包括"政府决策"和"国际人才"。 阿联酋的改革决心、丰富的自然资源和投资才能使其表现优于其他阿拉伯国家。阿联酋的政策表明,它将继续加强其商业环境,基础设施和经济结构。例如,阿联酋人社部部长在5月22日告诉联邦国民议会,将改变阿联酋劳动法法,以实现领导层、公民和私营部门的愿景,和适应后石油时代。
Both the Arab Fashion Week and the world's 7th most-Competitive ranking are proves of the UAE's open business environment. A growing number of global fund managers are seen utilising the world-class financial infrastructure of the country to diversify their clients' global portfolios. It is the right time to invest or to finance your own projects in the in UAE. Contact us if you are interested in the opportunities in the UAE.
阿拉伯时装周和世界第七最具竞争力经济体,都是阿联酋开放的商业环境的明证。越来越多的全球基金经理利用该国的世界级金融基础设施来实现其客户全球投资组合的多元化。现在是在阿联酋投资或为自己的项目寻求融资的大好时机。如果您对阿联酋的机会感兴趣,请联系我们。