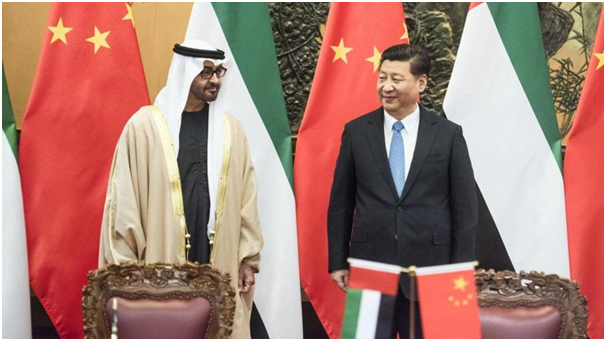 Xi Jinping will visit United Arab Emirates today on first trip outside China after re-election for another term. UAE is the largest Arab trading partner of China, with a total export value evaluated at $11 billion in 2016 and with an annual trading volume between the two countries above $36 billion. In 2015, the UAE-China relationship took a major step forward through the establishment of a $10 billion strategic co-investment fund, focusing on diversifying investments in a range of growth sectors such as renewable energy, infrastructure, technology and advanced manufacturing to support the Belt and Road Initiative. Two hundred thousandChinese citizens and 4,000 Chinese firms are currently working in the UAE. China's top four banks have a presence in the UAE, and there are over 100 flights a week between the two countries. Additionally, the number of Chinese tourists rose by 26% year-on-year in 2016 to 880,000.
习近平将于今日访问阿拉伯联合酋长国,这是他连任后的首次出访。阿联酋是中国最大的阿拉伯贸易伙伴,2016年阿联酋对中国总出口额为110亿美元,两国年贸易额超过360亿美元。2015年,通过建立一个100亿美元的战略联合投资基金,阿中关系迈出了重要的一步。该基金专注于投资多元化的增长领域,如可再生能源、基础设施、技术和先进制造,并以此支持"一带一路"倡议。20万名中国公民和4千个中国企业目前正在阿联酋工作。中国四大银行在阿联酋设有分支机构;两国间每周有100多个航班。此外,2016年中国游客数量同比增长26%,达到88万人次。
In the week preceding the Presidential officialvisit, several agreements were established between both countries.
在习近平主席正式访问的前一周,两国达成了多项协议。
The cooperation in the Energy sector will be an important subject tackled. Total UAE's export to China was valued at $11 billion in 2016 and at 60% composed by Crude petroleum, Petroleum Gas, Coal Tar oil and refined Petroleum. Crude consumption in China is set to rise by 4.6% year-on-year to 12.05 million barrels per day in 2018. On July 9th, Dr. Sultan Ahmed Al Jaber, UAE Minister of State and Abu Dhabi National Oil Company Group CEO, met with Wang Yilin, Chairman of the China National Petroleum Corporation in the aim to deepen investment partnership ties with major Chinese oil and gas firms. On July 10th, as part of the "oil and gas-plus" model, Xi Jinping pledged a package of US$20 billion in loans and about $106 million in financial aid, to spur economic growth in Arab countries.
能源部门的合作将是一个重要的议题。2016年阿联酋对中国的出口总额为110亿美元,其中60%由原油、石油天然气、煤焦油和精炼石油组成。中国的原油消费量在2018年将同比增长4.6%,达到每天1205万桶。7月9日,阿联酋国务部长、阿布扎比国家石油公司集团首席执行官苏尔坦·艾哈迈德·贾比尔博士会见了中国石油天然气集团公司董事长王宜林,以深化与中国主要油气公司的投资合作关系。7月10日,作为"油气+"模式的一部分,习近平承诺提供200亿美元的贷款和1.06亿美元的财政援助,以刺激阿拉伯国家的经济增长。
On July 11th, Dubai Multi Commodities Centre (DMCC) signed a Memorandum of Understanding (MoU) with China Council for the Promotion of International Trade (CCPIT). It aims to connect the Wuhan business community to Dubai's global gateway to access fastest-growing markets worldwide. Major Chinese firms such as Hisense, Hikvision, China Petroleum Engineering & Construction Corporation (CPECC), China Petroleum & Chemical Corporation (Sinopec), China Harbour Engineering Company, Power Construction Corporation of China and CHEMCHINAare already registered in Dubai.
7月11日,迪拜多种商品交易中心(DMCC)与中国国际贸易促进委员会(CCPIT)签署了谅解备忘录。它的目标是将武汉商界与迪拜的全球门户连接起来,进入全球增长最快的市场。许多大型中国公司如海信、海康威视、中国石油工程建设总公司、中国石油化工股份有限公司、中国港湾工程公司、中国电力建设公司和中国化工已经在迪拜注册成立分支机构。
To foster trade and cultural exchange between Dubai and China, Meraas launched at the beginning of the year a new initiative - Hala China - to enhance the number of visitors from China to the UAE. On July 15th, Meraas announced the establishment of Hala China board of directors with a broad range of expertise from the tourism industry and the wider economy, leveraging opportunities in travel, trade and investment sectors. This program aims to ameliorate the quality of services (payment, transportation, accommodation) received by Chinese tourists in the UAE. It will include Mandarin Chinese hotline and concierge services that can be accessed by all Chinese speakers visiting Dubai. Union Pay is targeted to be the official payment partner for the initiative and Emirates Airline was appointed official carrier.
为了促进迪拜和中国之间的贸易和文化交流,Meraas在今年年初推出了一项新举措——"拥抱中国"(Hala China),以提高中国到阿联酋的游客数量。在7月15日,Meraas宣布成立Hala China董事会,该董事会成员在旅游业和更广阔的经济领域拥有广泛的专业知识,撬动旅游、贸易和投资领域的机会。该项目旨在改善中国游客在阿联酋所享受的服务(付款、交通、住宿)的质量。它将包括普通话热线和门房服务,所有来迪拜的汉语使用者都可以使用。联合支付(Union Pay)将成为官方支付合作伙伴,阿联酋航空则被指定为官方承运人。
The Chairman of Makkah Investment, Mr. Sultan Alsadoon will also attendthe Dubai meetings that attracting worldwide attention and seek to create and introduce investment opportunities to our clients in both China and the Arab world. Contact us if you are interested in the great business opportunities among China and Arab countries.
麦加投资的董事长安溯腾先生也将出席举世瞩目的迪拜系列会议,并寻求在中国和阿拉伯世界为我们的客户创造和推介投资机会。如果您对中国和阿拉伯国家的巨大商机感兴趣,请与我们联系。