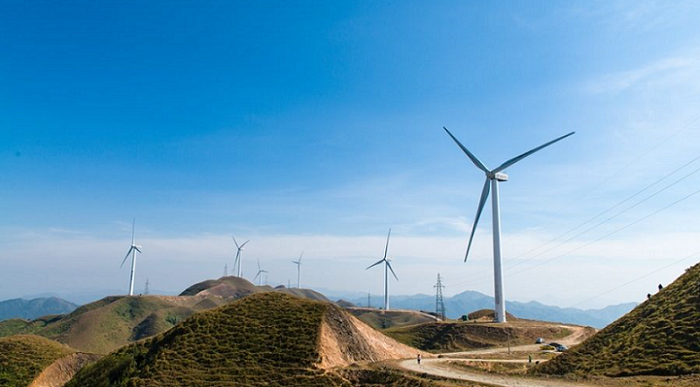 On July 24th, 2018 President Abdel Fattah Al Sisi inaugurated the Arab biggest wind farm in the Gabal El Zayt area near to the Red Sea. The farm has a capacity of 580 MW, with an investment amount of 12 billion EGP (673 million USD). The project is divided into three parts, the first one will have 120 turbines with a capacity of 240 MW, the second with 120 turbines and a capacity 220 MW, and the third includes 60 turbines with a capacity of 120 MW.
2018年7月24日,埃及总统阿卜杜勒•法塔赫•塞西在红海附近的Gabal El-Zayt地区成立了阿拉伯最大的风力发电场。风电场容量580兆瓦,总产值120亿埃镑元(6.25亿美元)。该项目分为三个部分:第一个将具有120个涡轮机,其容量为240兆瓦,第二个具有120个涡轮机总容量220兆瓦,第三个包括60个总容量为120兆瓦的涡轮机。
Egypt's growing population and economic development led to a significant rise in the demand for energy products. The country aims to meet 20% of its energy needs from renewable sources by 2022 and up to 40% by 2035. Egypt needs to increase its generating capacity by 5.5 GW a year through 2022 to make up for the shortfall, or roughly $5bn a year in investment.
埃及不断增长的人口和经济的发展导致能源产品需求大幅增长。该国目标是到2022年可再生能源满足20%的能源需求,到2035年将会达到40%。埃及需要通过每年增加5.5千兆瓦的发电量,以弥补缺口,约每年50亿美元的新增投资。
The private sector participation is essential so financing, lands allocation and permits, guarantees and customs duties are provided by the government to support foreign investments. It offers 4% loans for projects under 200 KW and 8% loans for projects between 200 and 500 KW in size. Projects above 20 MW will receive a state guarantee for their PPAs.
私营部门的参与是必不可少的,所以政府提供资金、土地分配和许可证、担保和关税等优惠政策来支持外国投资。例如,埃及政府为200千瓦以的项目下提供4%的贷款,为规模在200至500千瓦之间的项目提供8%的贷款。超过20兆瓦的项目将获得购电协议的国家担保。
According to the Egyptian New & Renewable Energy Authority (NREA), the total installed capacity in Egypt is about 50GW in 2018, 40.1GW thermal, 2.8GW hydro, 0.95GW wind and 0.14GW CSP. The renewable energy only represents about 2.5% of the total produced capacity.
根据埃及新能源和可再生能源局(NERA)的调查,埃及2018年的总装机容量约为50GW, 其中包括40.1GW热电、2.8GW水电、0.95GW风电和0.14GW光热电(CSP),可再生能源产能仅占总产能的2.5%左右。
The country has the right environment to meet a substantial proportion of its energy needs by utilizing wind and solar power almost 90% of its land is suitable for setting up wind turbines. In the Suez Gulf, the average wind speed reaches 10.5 m/sec, wind energy resource is available in large regions on the Nile banks, in the Eastern and Western Deserts and parts of Sinai.
该国拥有合适的自然条件来利用太阳能和风能发电以满足大部分的能源需求,其中几乎90%的土地适合建立风力涡轮机。在苏伊士湾,平均风速达到10.5米/秒,在尼罗河畔和东西部沙漠大部分区域,以及西奈半岛的部分地区风能资源的可获得性都很高。
Makkah Investment is the first Arab Investment Advisory firm established in China and serves as a bridge between Arab countries and China. For more information please contact PR@makkah.com.cn
麦加投资是中国第一家阿拉伯投资咨询公司。我们的目标是建立阿拉伯和中国之间协同合作桥梁。请联系PR@makkah.com.cn